Information
Let's meet at Nordic-Baltic Diversity & Innovation Conference!
Join us in this half-day practical discussion on the diversity in innovation and its impact, along with the leaders from business to policymakers from the Baltic and Nordic regions, in order to identify and agree on the diversity practices that brings impact and matters.
The conference will be held at Danske Campus (Saltoniškių g. 7b, Vilnius 08105 (DC Valley)) on 28th of April at 12:00 EEST with a possibility of remote participation.
Price:
Live tickets for members: 120€
Live tickets for non-members: 140€
Online tickets for members: 70€
Online tickets for non-members: 90€
Registration is financially binding, any cancellation made after 21st of April will be charged. Substitutions are accepted.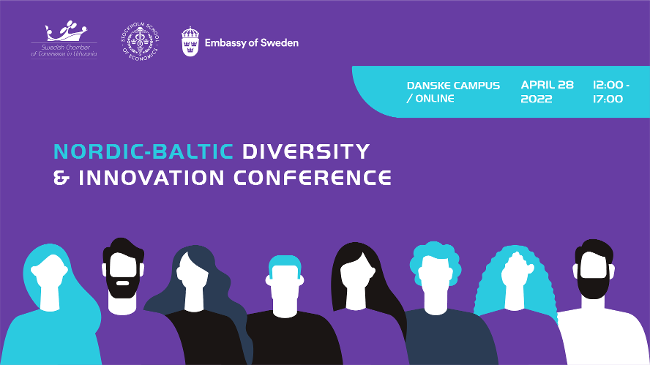 The conference is co-organised with our member Stockholm School of Economics in Riga and Powered by the Embassy of Sweden in Vilnius. The event is sponsored by Danske Bank, Scania Lietuva, Accenture, European Commission, and Manpower Lithuania, in collaboration with Hotel PACAI and supported by Asociation 'Lyderė.
If you have any questions regarding the event or registration, don't hesitate to contact SCCL by phone +370 655 28266, or e-mail daniele@swedish.lt