Information
Let's discuss Navigating The New Reality at the 10th European Banking & Finance Conference 2022

This conference is a unique forum for top management, high profile banking, and finance sector professionals,
regulators, supervisors from all over the world.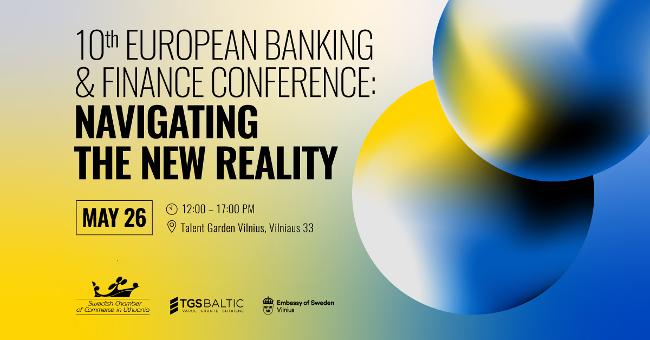 The hybrid event will be held at Talent Garden Vilnius (Vilniaus st. 33, Vilnius) on 26th of May at 12:00 EEST with a possibility of remote participation.
Price:
*Live tickets for members of the Swedish Chamber of Commerce: SOLD OUT
*Live tickets for non-members: SOLD OUT
Online tickets for members: 50€
Online tickets for non-members: 70€
*Exclusive and limited amount of live-seats are available for sale on a first come, first served basis.

Registration is financially binding, any cancellation made after 23rd of May will be charged. Substitutions are accepted.
Main Partner TGS Baltic, Powered by the Embassy of Sweden in Vilnius.
If you have any questions regarding the event or registration, do not hesitate to contact SCCL by phone +370 694 50640, or e-mail laura@swedish.lt.